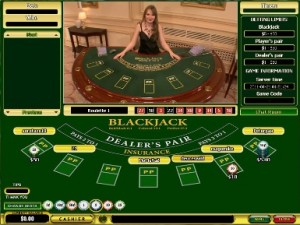 Many online casino players are in fact casino enthusiast that lack the opportunity to visit a real casino or have been to one and want to enjoy the sheer excitement of playing casino games from the comfort of their own home. City Club Live Casino answers just these needs to provide its players with the perfect gaming environment which is both online and live at the same time. The concept is fairly simple; a live dealer is set at one end while the player in the other and the two communicate via a live stream. All of the player's actions are made with the software provided and the dealer complies in accordance with the player's moves of the game. City Club Live Casino features live City Club Blackjack, live City Club Roulette, live baccarat and live sic-bo.
One reason why many City Club Casino players prefer to play City Club Live Casino is the fact that the players witness every move the dealer makes and can be certain all outcome and results are genuinely random. Though are games and system are strictly monitored and tested by third parties to ensure fair gaming at all times, many players feel more comfortable playing City Club Live Casino. Playing live City Club Casino Games at the City Club Live Casino section is simple as playing any other game. Whether playing with the desktop software or the flash version of the software, all that is required of the player is too choose playing live blackjack, roulette or baccarat and the rest is just the same playing other City Club Casino Games.
If there is more you wish to know about playing City Club Live Casino, or if you require our services and support, please contact us and we will do our best to assist you in every matter possible.
Last updated on April 9, 2023