City Club Blackjack
Blackjack is one of the most popular card/table games right after poker and owes its popularity to the nature of the game itself where a sole player can go head to head with the dealer instead of having to deal with a mass of players like in poker or baccarat and to fact that it's a relatively easy game to play and easy to understand. City Club Blackjack gives players the feeling of a real blackjack game allowing them to play Blackjack Classic, 21 Duel Blackjack, Blackjack surrender, Lucky Blackjack and more.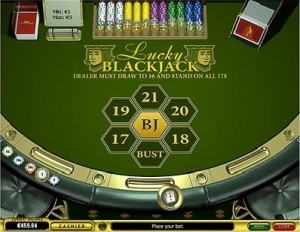 Each version of City Club Blackjack is based on the same on the concept of hitting 21 in cards value, obtaining the blackjack 21 which is a face and a ten, going higher than the dealer when he stands at 17 or having the dealer bust going beyond 21, when each version presents a slightly different way of playing the game. 21 Duel Blackjack for example involves the dealer getting two face down cards and two face up cards which are communal cards. Player then folds or chooses one communal and doubles the bet, and so. Blackjack Switch gives the player two pairs of face up cards from which he can switch the top card of each pair. Blackjack Surrender allows folding at an early stage and saving the bet but rules for getting a hand of blackjack are more complicated than any other City Club Blackjack game.
Play City Club Blackjack and other City Club Casino Games like City Club Roulette and City Club Video Poker by going to City Club Download page or by clicking here, downloading our casino software and installing it onto your PC. If wish keep discreet and don't want to install the software on your PC, you can play City Club Casino using our flash version which allows you to play City Club Casino Games via any web browser.

Play City Club Blackjack No Download Required
If you wish to know more about City Club Online Casino, want to inquire about our service and policies or require our assistance in any matter, please contact us and we will do our best to help you.